Heavy Metal Forever
GW Elder
Messages

258
Like/Message Ratio

0.62
More
Joined

Jun 23, 2023
Messages

258
Reaction score

159
Points

65
PlayStation Network

Spiner202
I recently subscribed to Sportsnet+ in Canada (don't ask), and it provides a random assortment of historical PPVs to watch. I think I've mentioned in other threads that my first exposure to wrestling was around 2002, so I'd see a lot of the PPVs from about that year until 2004 or so, as well as the occasional one from the Attitude Era. I'm planning to watch everything that this service has - somewhat in order (but I may deviate as I get bored). Below is a screenshot with what is available - hopefully they add more over time. Things in green are ones I've already finished watching (ignore the months; they're not 100% accurate, but were used as a way for me to ensure I'm watching in order):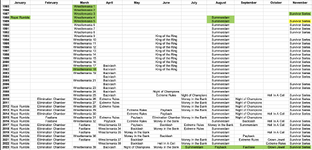 In this thread, I'll comment with some random thoughts as I work my way through these, but not necessarily on each PPV. Please try to keep future PPV's spoiler-free
My thoughts today are essentially that wrestling had a rough time during this era. Wrestlemania 1 was entertaining for the sheer spectacle of it all. I loved how they just had a random WWE person sing the anthem, rather than getting a celebrity. It's pretty clear early on that Hogan is the best they have; not necessarily as a wrestler, but he cuts the best promos and has the most excitement around his matches. I'm not sure if there was truly a good match on either of the first two Wrestlemanias, but starting with the third one, Ricky Steamboat vs. Randy Savage was excellent. Survivor Series 1987 didn't do much for me, and the first Royal Rumble in 1988 was pretty rough as well.
I love the commentary team of Gorilla Monsoon and Jesse Ventura. They speak in such a hilarious way. By contrast, I didn't love McMahon/Ventura on Royal Rumble 1988. They felt too adversarial (even though I know a lot of wrestling commentary works that way).
I skipped ahead to Wrestlemania 18 because I wanted to see Rock vs. Hogan and it was awesome. There's something special about having a crowd that is so into a match. In any case, I'm sure this will take me years to complete, but I'm looking forward to the adventure, because I have a lot to catch up on!
Last edited: